Innovative Integration Saves 1,800 Hours of People Power Annually

New website with innovative integration increases traffic and work efficiency
Transworld Business Advisors of Minnesota knew their website was difficult to use and dated processes needed improvement. Their time was best spent having conversations with potential clients, closing sales, and delighting customers rather than updating a custom coded website and manually processing administrative paperwork.
Transworld looked for an experienced partner with a deep understanding of the HubSpot platform and the app ecosystem. Transworld selected Denamico to redesign their website, automate their buyer engagement processes, increase efficiencies, and help improve their customer and employee experience.
Building Trust in the Transworld Team
Buyers and sellers typically came to Transworld with little knowledge of the buying and selling process. Visitors were hesitant to divulge personal and financial details until trust had been built. With a need for confidentiality, the process to secure NDA's was arduous, often leaving visitors waiting days for access to basic information.
Through a professional website design and efficient automation, we helped Transworld build trust with their visitors and ensure they knew they were in the right place to make one of the biggest transactions of their lifetime.


Transworld's Pain Points:
Already a Hubspot customer, Transworld's custom-coded website made updates challenging. Transworld wanted a mobile-friendly website built on a user-friendly template with an updated look.
Existing navigation didn't offer clear paths for Transworld's two audiences - those selling a business, and those buying a business. This lack of clarity caused visitor frustration and high bounce rates.
Due to the confidential information divulged during the buying/selling process, Transworld faces a high volume of compliance processes before basic information can be shared with a prospective buyer. These processes were time-consuming for their employees. Transworld recognized they were losing interested buyers who were waiting hours or days to receive an NDA required to get additional information on a business.
Transworld's HubSpot CRM was not integrated into their buyer and seller process. There was a lack of adoption from their internal employees since prospect contact information, engagement history, and the required confidentiality agreements were all housed in disparate systems.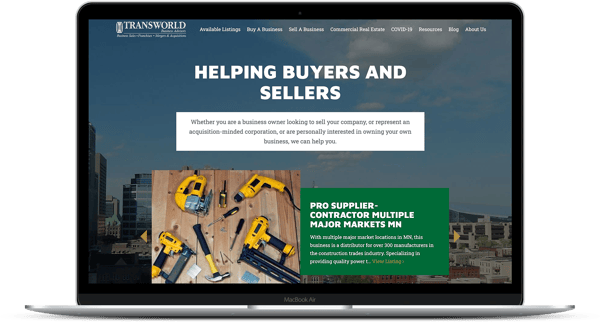 (original site design)
Improve user experience - internally and externally
Improving the Customer Experience: Redesigning the website to vastly improve primary design elements, attract higher net worth clients, and clearly defining the buyer journey.
Increasing Efficiencies and Optimizing to Grow:

Streamlining process efficiencies utilizing the HubSpot ChatBot, and an innovative integration using Formstack keeping potential buyers engaged, reducing manual processes performed by employees, and expediting customer requests.

Consolidating Systems and Pairing the CMS and the CRM:

Tying all business processes and systems, including the new Formstack integration, into the HubSpot CRM providing a 360 view of all information and engagement history in a singular source of truth for Transworld employees enabling better service and a greater ability for advisors to close sales more quickly.

Phase 1: Deliver a quality website to elevate prospects and perception
Updated imagery replaced standard and outdated stock photography creating a more intimate visitor experience and enhancing trust. The final product resulted in a highly visual, responsive, template-based website that is easy for Transworld to maintain.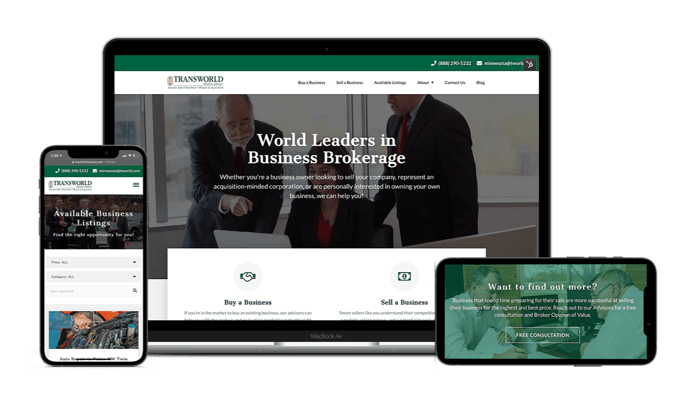 Next, it was time to clearly define buyer and seller paths - getting visitors where they need to be intuitively. We restructured the topline navigation and home page CTA's allowing visitors to quickly self-select between embarking on the "buyer's" journey or the "seller's" journey.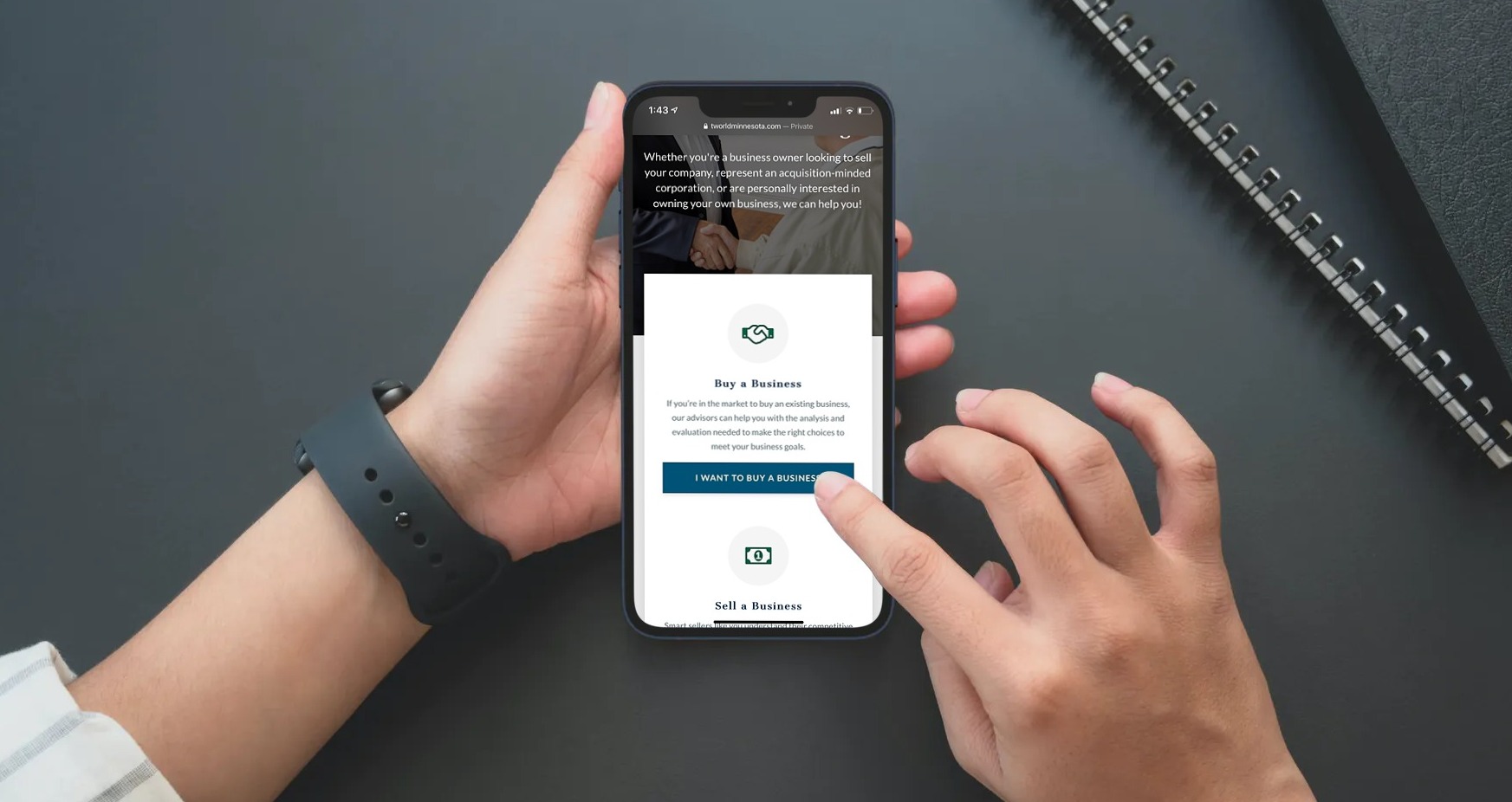 In today's digital-first world, website visitors expect to find desired information within seconds of landing on a site. By restructuring the navigation and laying out visual CTA's, visitors easily find the information needed to move forward.
Phase 2: Optimize for Efficiency & Growth
It's important to connect with potential buyers when their interest is highest. Transworld wanted to alleviate the bottlenecks that confidentiality documentation often caused.
Sending, tracking, and processing signed confidentiality agreements involved approximately 35 hours of work/week for the Transworld team. This included creating a contact and logging the inquiry in two separate systems, setting-up the document for the business of interest, sending and tracking the document for signature, then downloading and updating two systems upon receiving the signed document. The customer experience was painfully slow, inefficient to deliver, and often resulted in losing the interest of the prospect.
We expedited form processing and eliminated the need for manual data entry in multiple systems by creating a unique integration:
A HubSpot form collects and captures the necessary information for confidentiality agreements
Data is routed to Formstack via Zapier
Formstack merges data into digital documents with e-signature functionality
Between the time of form submission and receipt of the signed confidentiality agreement, a HubSpot ChatBot keeps visitors engaged and addresses FAQ's that often arise during the buyer journey
Upon completion of the Formstack form and eSignature capture, a webhook pulls information back into HubSpot kicking-off additional workflows
Phase 3: CRM and CMS Integration - Accelerate Growth
Finally, a workflow notifies the Advisor of completed documentation and releases access to password-protected landing pages containing additional information for the potential buyer.
Because all documentation now lives in HubSpot, there is one source of truth for Transworld employees, helping with CRM adoption and maximization of Sales Hub.
Initial Results are Strong:
Three weeks post deployment:
Visitors are finding what they anticipated, staying longer and visiting more pages. Trust is being built and visitors have a clearer path to their buyer's or seller's journey.
The new HubSpot/Formstack integration is working flawlessly - saving employees time and getting key information in buyers hands efficiently.
Set for Long-Term Success
Increased efficiency for employees and customers.

Replaced legacy system with a key Formstack integration.

Paired the CMS and the CRM to provide a single source of truth enabling better success opportunities for Transworld employees.

Embraced opportunities through HubSpot Sales Hub to meet growth goals. Training is rolling out in 2021.
Let's Grow
Contact us to chat about your HubSpot CRM, Website, or Automation challenges today.
Let's Talk