Integrate QuickBooks Online and HubSpot for Financial Visibility
When you integrate QuickBooks Online and HubSpot, your financial data becomes more comprehensive and insightful.

This integration gives you a panoramic view of your finances, empowering you to make informed decisions with greater accuracy and precision,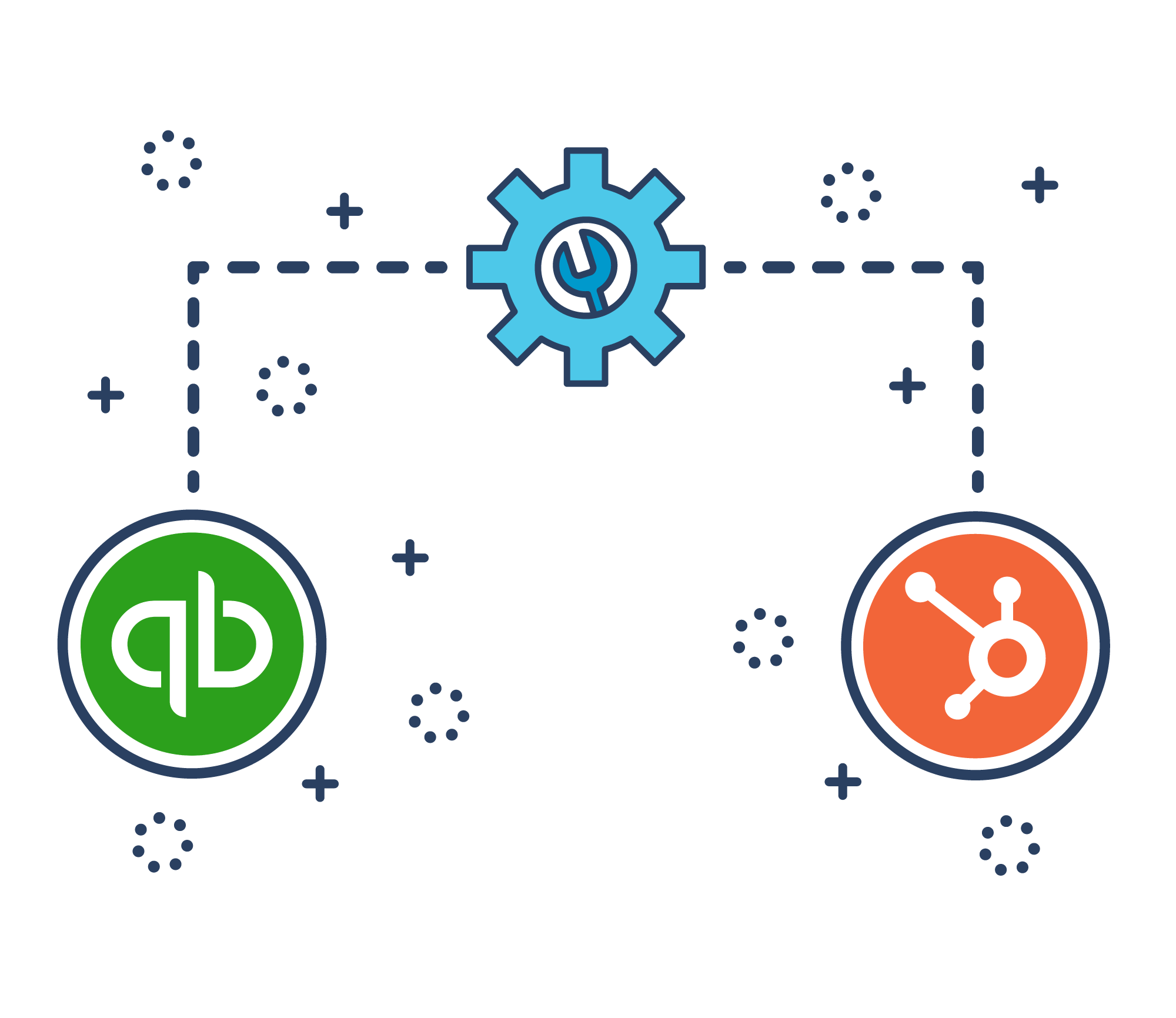 Streamline your accounting processes and optimize your financial management
The way you use QuickBooks Online is tailored to the unique needs of your organization. That's why we offer a range of integration packages to ensure it meets your specific needs.
With the QuickBooks Online integration set up properly, you'll be able to take advantage of these great business wins:
Collaboration
Enhanced collaboration between Finance and Sales teams
Data Visibility
Streamline operations by increasing data visibility across platforms
Automatic Updates
Reduce manual tasks for Sales and Finance with automatic updates in QBO and HubSpot
Select the Right Fit for Your Organization
Explore our range of QuickBooks Online integration packages and uncover their unique benefits to streamline your accounting processes and optimize your financial management.
| | | | |
| --- | --- | --- | --- |
| Feature | Starter | Essentials | Plus |
| Sync QBO Customers with HubSpot Contacts | Yes | Yes | Yes |
| Sync QBO Invoices with HubSpot Invoices | Yes | Yes | Yes |
| Sync QBO Inventory with HubSpot Products | Yes | Yes | Yes |
| Set up Custom Properties to Sync | Yes | Yes | Yes |
| Quote-to-Cash Process Automation | No | Yes | Yes |
| Set up HubSpot Workflows to Support QBO Sync | No | Yes | Yes |
| Invoice & Customer Reporting in HubSpot | No | Yes | Yes |
| Dedicated User Training | No | Yes | Yes |
| Customized UAT (User Acceptance Testing) Plan | No | No | Yes |
| Sync Additional QBO Entities with HubSpot Objects | No | No | Yes |
| Set up HubSpot Custom Objects to Sync with QBO Entities | No | No | Yes |
HubSpot Integration Solutions
Frequently Asked Questions
Can I use the QuickBooks Online integration with any HubSpot plan?
To use the QuickBooks Online integration, HubSpot requires a paid subscription to Operations Hub:
For the

Starter

and

Essentials integrations, a Starter or higher subscription is required.
For the

Plus

integration, a Professional or higher subscription is required.
How long does it take to make the QuickBooks Online integration work?
Depending with the plan you choose an integration implementation can be completed in as little as 1 week, up to 6 weeks.
Can I use this integration with any QuickBooks subscription?
Great question! This integration is specifically for QuickBooks Online, and works with all subscription plans.
Will you train me how to use this integration?
We offer a dedicated training session on our Essentials and Plus packages.
For the Starter package, we will walk through how the integration works during our second call to set you up for success.
Who should be included from my organization for the meetings?
To make the most of this integration, we strongly recommend a leader from Sales and Finance be available for each call and actively participate throughout the process.
Let's Talk QuickBooks Online & HubSpot Integration!
At Denamico, we love helping people maximize HubSpot to achieve growth.
Don't hesitate to reach out to us by completing our hassle-free contact form. We're here to help you in any way we can!